Our Facilities
At the Waverley we all work as a team to ensure our residents are happy, comfortable and well-cared for, with the best possible quality of life. The dignity and privacy of our residents is a priority.
We aim to keep our residents stimulated and interested by encouraging them to take part in a programme of regular and specially organised activities in the company of other residents and staff. Participation is entirely the choice of the individual. As far as possible we encourage the independence or our residents and provide laundry washing and drying facilities. Residents can make themselves hot drinks and snacks under supervision and are welcome, and indeed encouraged, to continue any hobbies they enjoy.
General nursing care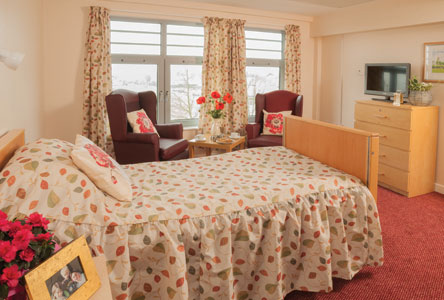 For elderly people needing personal and/or nursing care.
66 cheerful and newly refurbished single rooms with bedroom and sitting area
Most rooms have ensuite bathrooms and views over the coast and the Bristol Channel.
All rooms are suitable for wheelchair users.
Each floor of 10 – 14 rooms has its own dining and lounge area so residents can enjoy company or receive their care in the privacy of their bedroom.
There is a kitchen area on each floor for use by residents and visitors if they wish, or hot drinks can be made by the carers as requested.
Elderly Mentally Infirm
For people who suffer mainly from dementia or other cognitive mental infirmity.
We encourage communal living and dining as this helps to minimise the potential risk of an injury or accident to our residents. The staff can make sure that everybody is eating and drinking well.
29 cheerful bedrooms, mostly single, with a number of double rooms for those who prefer to share.
Some rooms also have ensuite bathroom facilities.
There are two communal lounge and dining areas; one is smaller and quieter for residents who are distracted in the larger area, where the aim is to stimulate residents with activity and a lively atmosphere.
Functional Mental Illness
For people who require nursing care because of functional mental illness.
We encourage communal living and most residents spend a lot of their day in company in the lounge or dining area. This area has a relaxed pace of life and we plan our residents' care around their preferences.
24 cheerful single bedrooms, either with ensuite bathrooms or easy access to a nearby bathroom and toilet.
All rooms are suitable for wheelchair users.
All our bedrooms are fully furnished, but residents are welcome to bring small items of furniture with them to personalise their rooms. The large majority of our beds are profiling (electrically operated enabling them to adjust to a sitting position or to elevate the feet).