Our Team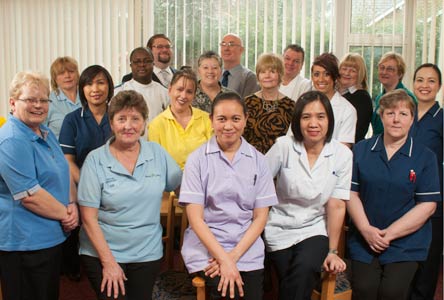 Each of our three units (General Nursing, EMI and FMI) is overseen by an experienced Unit Manager, supported by Sisters and Staff Nurses.
Relevantly qualified staff are on duty at all times, including RGNs (general nursing) in Seaviews, RMNs (psychiatric nursing) in both Glan-y-mor and in Cliffhaven. All of our senior staff operate an open door policy and encourage friends and family to seek out the qualified nurse on duty, so that an up to date picture can be given, relevant to the person that is visiting.
Senior Care Assistants work under the guidance of the qualified staff and head up the Care Assistant teams. The atmosphere within the Waverley is one of busy but calm and the relaxed but professional ambience is very evident within the units.
We also benefit from 3 full time Physio Aides and Activities Officers. There are daily timetables of activities in each unit, not suitable for all, but during the week there are many activities which the majority thoroughly enjoy.
Two full-time Education Officers conduct a continuous programme of staff training to ensure that our competent and capable staff provide good care delivered with respect and dignity. Training takes place within the classroom and also out in the units, where standards are constantly monitored.
The management keep policies and procedures under continual review to ensure they are up-to-date with legislative changes and best practice.